Way back in 1902 — long before the United States landed on the moon — a French filmmaker named Georges Méliès created an amusing short film called "A Trip to the Moon" wherein a group of astronomers put on their finest top hats, hopped in a cannon-propelled rocket, and traveled to the moon.
The film, which was inspired by Jules Vernes' novel "From the Earth to the Moon," was one of hundreds of films Méliès (1861-1938) created in his lifetime. Many film buffs are aware of his contributions to the industry, but if you just learned this fact (like me), you've likely still seen this iconic image from the film: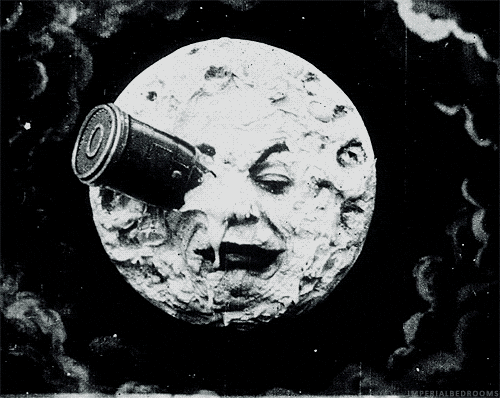 If you just went, "ooooh, that one," you are not alone. (Hint: you can watch the full silent film on YouTube. It's funny and worth 12 minutes of your time.)
As she created the cover art for the Fargo Film Festival program this year, artist and The Arts Partnership Project Manager Christina Johnson drew inspiration from the iconic film and the pioneer of cinema.
"Once you've seen it, it's impossible to forget, and it's a lovely personality-filled highlight of film history," Johnson says. "Once I added his illustration, its iconic nature quickly took the focus, and everything was an attempt to back it up."
Every year for the Fargo Film Festival, which takes place March 19-23, the Fargo Theatre commissions a local artist to create the cover art for the paper program. When Fargo Theatre Executive Director Emily Beck saw Johnson's tribute to Méliès, it took her breath away.
"She married an iconic moment in film history with the Fargo skyline (and our trademark snow)," Beck says. "I could not think of a better representation for the Festival."
Johnson created the piece using Photoshop and Illustrator, but she has dabbled with a lot of different media like drawing, painting and digital work since she was little. Her art is generally realistic and focuses on human and animal figures, she says.
"I enjoy throwing in something quirky or humorous whenever I feel like I can get away with it," she says.
Johnson graduated from NDSU with a Bachelor of Science in Art, and while her "output was pretty sparse" for many years after graduation, her creative spark reignited after she started working part-time for The Arts Partnership in 2017 because she was "surrounded by people striving to support and promote awareness of local working artists," she says.
Overall, Johnson is grateful to the Fargo Theatre for this fun opportunity to share her work and shed a light on a piece of cinema history.
"I loved getting the opportunity to give the poster a shot, as I've really enjoyed seeing what comes out for it every year, especially with the great variety of artists they've had designing them," she says. "Using the opportunity to combine two very iconic images — one local, one global — was icing on the cake."
Prints of Christina Johnson's piece will be available for purchase at the Fargo Theatre throughout the run of the festival. For more information on the Fargo Film Festival, visit www.fargofilmfestival.org.